US Version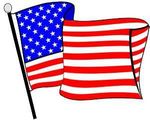 Part 1
On 1990, May 16th, at around 10:PM, Brando's life shatters. His eldest son, Christian, drunk, kills Dagobert Drollet, the fiancé of his half sister Cheyenne, 6 months pregnant. Why? Some hours earlier, Cheyenne tells her brother that Dag is violent, particularly once when she was 4 months pregnant.
Marlon tries to bring Dag to life by mouth to mouth, but in vain. He nervously calls the police, and yells at the incredulous who receive his call: "Marlon Brando! Do you want me to spell it?" The inspector can't believe it, he thinks this is a joke, until he is in front of the actor's house at 12900 Mulholland Drive, Beverly Hills. A very large and bervous man comes, opens the door: this isn't a joke, this is Marlon Brando, the legendary actor, the super star of "On the Waterfront" or "The Godfather". "I swear, I did the best I could to be a good father.." that's what he kept repeating.
What happened that made a family lived through tragedy? To understand it, it is necessary to look back in Marlon Brando's life, it is not surprising that something had give up in the Brando's family.
Cheyenne Brando. From her birth to her adolescence, she was the incarnation of happiness. She was smiling, polite, sweet and hard working. She liked studying, and had excellent marks at school.
Cheyenne was born in 1970, February 20th. Her mother is Tarita Teriipaia, the wahine from the movie "Mutiny on the Bounty", in 1960, with Brando.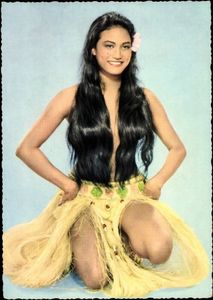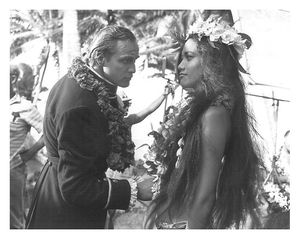 He immediatly falls in love with her, but it is not the case for Tarita and Marlon will have to be very patient in order to seduce her. During the shooting, Tarita has a chaperon, to help her, because she has a poor english and this is her first movie. This man is Leo Langomazino, and he is the half brother of Jacques Drollet, Dag's father! Who could guess that 30 years in the future, their common destiny collapse...
1962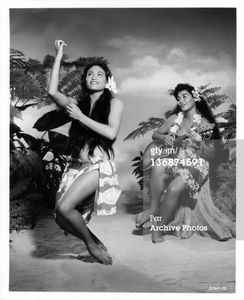 Quickly, Tarita finds out that she is pregnant. She goes back to French Polynesia, with her parents. Actually, Marlon doesn't want her to keep the baby. Tahiti cheers her up: the sea, the sun, the kind people, much more simple and honest than the people in America. "In Tahiti, when you bump into passers by, they smile at you, they chat with you, they help you. But in America, you can be dying in the street, no one cares about you." she says. Marlon thoughs exactly. He likes very much Tahiti, the way the Polynesians live. "They are always happy, they sing, dance and have fun." Marlon was the happiest man on earth that Tarita was pregnant.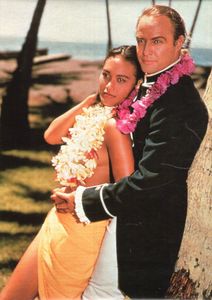 So why he suddenly changed his mind?
Actually, Marlon is already a dad. He has a son, Christian Devi -a tribute to his friend Chrisitan Marquand, a french actor, born in 1958 from his brief mariage with Anna Kashfi. And this is war between she and Marlon. Each wants to keep away Christian from the other one by asking the care of the child and paying people to kidnappe him. And the matter is, if Anna knows that Marlon starts a family with another woman, he can lose "the war". Just before Brando started the shooting of "Mutiny in the Bounty", he got married with the actress Movita, whom he had another boy, Miko, and it caused some troubles. So he knows the importance of keeping his love life private.
Anna Kashfi and Christian Brando
In 1972, during the shooting of "Last Tango in Paris", Christian was kidnapped by hippies. Anna told them that she would give them 30 000 dollars to get her son back. But then she refused. One of the hippies abused sexually 13 years old Chrisitan, and then they left him alone, in Mexico. Marlon is alarmed and hired immediately a inspector to find him. He seemed relaxed, Maria Schneider, her partner in the movie, will say in an interview in Paris Match, at his death in 2004, that he was very worried and sad, though he is easy going. Christian was found, safe and sound, but he had pneumonia and was very shocked by what happened to him. Then, the judges are more in favour of Marlon, and by the way, Christian asked for living with his dad, not his mother.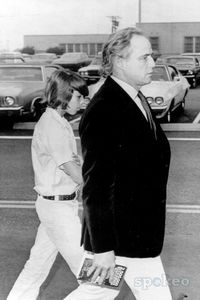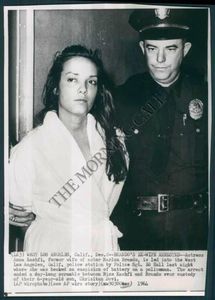 Anna has some trouble with herself. She drinks, takes drugs, and is violent. She abuses him physically, emotionnally, attempted suicide. According to George Englund's book, a friend of Christian is a witness of the violence of Kashfi towards Christian. He 's afraid to go to sleep alone. Because her mother, drunk, comes to her bed and wakes him. She yells at him: "Why do you do that to me? I want you to apologize I want you to apologize!!!" -"But what did I do wrong?" -"Say you are sorry!" -"Okay, I am sorry!"
Yes..Christian really has had a very sad life. From the age of 14, he drinks, takes drugs, droppes school, turns out badly. And this is not easy to be the son of a star, by the way Marlon is not able to really help him..
1963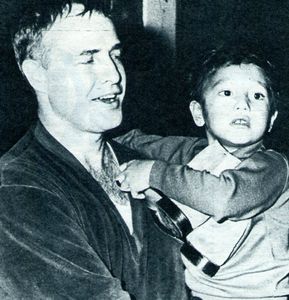 Marlon Brando and Teihotu
But let's go back to Tarita. She gives birth to Teihotu Simon -Teihotu is the name of her father- in 1963, May 30th. Marlon is now happy and wants to see him! But she knows that Marlon will not come back to her life, will always cheat on her, so she decides to go out with another young man. She wants to tell that to Marlon, that she is now with someone else. He's kind, understanding but shocked. He wants to keep her, but having affairs at the same time. He spies her, and quickly she realises that. She gets angry and asks what he wants! To be with her or not. He will always manage to destroy her love life. Each time she will find someone, he gets the man away.
1970's

And one day in 1969, he asked her an incredible thing: he wants another baby from her. He wants a daughter. "I have enough boys -Christian, Miko and Teihotu- I want a little girl. And I will be a true Tahitian father." She accepts. The baby is made by artificial insemination, because since Tarita has dated with other guys after him, he can't..make love with her.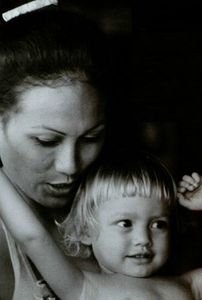 Tarita is very happy, he is always with her, he's kind, sweet, and she hopes that now, he will stay with her, not go back to USA and not have affairs with others women. But she is naive. After the birth of Cheyenne, he leaves her again, gives no news to her.. Tarita meets a french man, Jean Claude, and they have together a little girl, Maimiti, in 1976. Marlon is not happy but accepts that Tarita keep the baby. Then, Jean Claude abandonnes Tarita and Maimiti, because he can't bear the attitude of Marlon. As always, he wants Tarita to belong to him, even though they are not together.
This time, Tarita is enough. She realizes now that she will never find love, that there is nothing to do: she belongs to Marlon. Bur she is not unhappy either, she takes care of her children. Teihotu loves very much Cheyenne, "He doesn't feel threaten" and he and Cheyenne will welcome very well their half sister Maimiti. Marlon comes sometimes to see them, in Tetiaroa, the island he bought in 1966.
1980's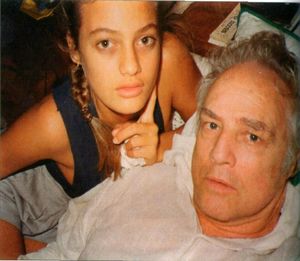 Cheyenne is very close to her dad, she writes him often, and demands to see him when she is in holiday and he doesn't work. She goes to Mulholland Drive alone when she is mature enough to see him. She is happy, has excellent marks at school, has a lot of friends and gets angry when she sees her brother Teihotu (7 years her senior) drinking, smoking or taking drugs. "Don't do that Teihotu, someday, you will be very sick and you will die." Teihotu is the opposite of Cheyenne, he doesn't like school, is depressed and with his friends, he spends his time having parties. Among his friends, there is a certain Dag Drollet.
But at around age 14, Cheyenne starts to be a bit depressed too. She goes back to Tahiti sad each time. She doesn't say anything, but once, Tarita comes upon Cheyenne in tears. This time, Cheyenne tells everything: Marlon wants to adopt a 13 year old girl, Petra, the child of his secretary. He treats her as if she is his own daughter but at the same time, ignores more or less Cheyenne. Besides, he likes making Cheyenne jealous, for example, he promises Petra to give her for example a purse that Cheyenne wants; later, Marlon gives a car to Petra, but not for Cheyenne. She doesn't understand why he behaves like that, why he suddenly ignores her. "Dad doesn't love me anymore mum, he cares only for Petra".
Tarita understands why: Marlon never accpeted that she has had a child (Maimiti) with another man, and he wants to hurt Tarita by adopting Petra. "And Cheyenne is the innocent victim of this settling of scores. Because Marlon has love-hate relationship with everyone" -Tarita.
Then, in 1986, Marlon refused to help financially Cheyenne for her future plans of studies in France, after the Baccalaureate. He just says "no", without any explication. Once again, Cheyenne is a little depressed, she doesn't get why he is so cold to her.
Cheyenne does modelling a little in 1986.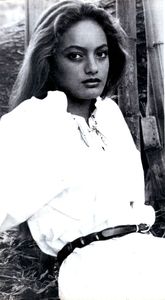 In the meantime, in 1981, one of the Tarita's brothers decides to abandon his baby, because he's very poor. After the insistance of Tarita's mother, Tarita adopts this 3 months girl, Raiatua. Cheyenne is 11 years old, Maimiti 5, and they welcome very well this new member of the family, as Marlon, Teihotu and the others do. Cheyenne and Maimiti will always consider Raiatua as their sister, and not a cousin. They are very close each other.
Teihotu leaves the house. Tarita tells Marlon that he is depressed, he doesn't want to study, he takes drugs and Marlon asks him to come in USA, in order to study and get a job. He overgoes his problems and becomes a massager. He goes back to Tahiti to see his family from time to time.
Raiatua, Cheyenne and Maimiti 1987/ Cheyenne, Maimiti and probably their aunt Anna, Tarita's elder sister, 1984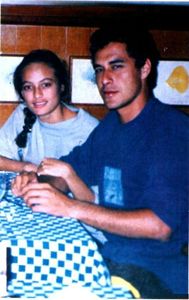 Cheyenne, 17, finds love with Dag Drollet, 23, one of the very good friends of Teihotu.
They chatted one night, in a nightclub, in May 1987, and from this time they never stopped to see each other. Dag is the son of Lisette and Jacques Denis Drollet, a great personnality in Tahiti. They divorced when Dag was very young and he has a step-father, Albert Lecaille. At the begining, Cheyenne is so happy and combines very well her love life and school. She even settles at Dag's house, with Lisette and Albert.
But, one morning, everything shatters.

The three sisters have their breakfast with Tarita. And suddenly, Cheyenne slaps violently Maimiti. She yells, insults her mother and throw an ashtray to her mother's face. Hopefully, Dag comes and calms her down. He takes her to his place. Tarita can't believe that it is true. "What happened to my Cheyenne, with so full of love for life?" Few days later, Tarita recieves a call from the school: Cheyenne has hit two of her fellowclass and insulted a teacher. Tarita comes to take her to home. She is very calm in the car, but arriving at the door of the house, Cheyenne hits her mother. And she is calm again during two or three days. Tarita calls the doctors and Marlon. He doesn't say anything except :"Hum, it's okay, it will go over it, ask her to come and see me."
Cheyenne 's friends start little by little to not talk to her any longer.
Her sisters are very scared of her. They avoid Cheyenne, their eyes are full of fear if she is in the same room as they are, and Tarita is very sad watching that and does her best to protect her daughters from Cheyenne. But she can not do a lot because Tarita herself fears her own daughter and is abused by her...
Cheyenne is better when she goes to see her dad. In 1989, from the USA, she sends a lovely letter to her sister Maimiti. She tells her to work hard at school, how much this is important to have good marks, but at the same time, not deprive herself to go to parties and go out with boys. And concerning boys, she gives her a lot of advices: "Don't do the same mistakes than me", "Don't fall in love with the first boy you meet", "Be careful with them", "watch them, watch which kind of friends they have". She says also that their mother, Tarita is a very good mother.

Tarita understands: Cheyenne falls in love with Dag but regrets her innocence because he has been unfaithful to her once (but promises to not be again) , that short time before they went out, Dag was with another girl, whom he had a little girl, Taiarani. Cheyenne feels unhappy. Later, Tarita will realize something else: She and Dag take drugs: From cannabis to Cocaîne. Cheyenne says incoherent things. She claims once, for example, that even she is alone, she is walking to school, and Dag beats her and then goes back home.

She tells Teihotu that Dag is physically abusive.
She is very violent, she hits Dag, when she is in a lack of drugs. (Dag wants to deprive her to drugs.) But not only her fiancé, even the people in the streets, the ex girlfriends of Dag, the woman whom Dag had an affair. She yells, insults, breaks everything in the house. Lisette is a witness of her behavior but says also that she is very sweet and kind when she is normal. Jacques Drollet will say that she is very jaleous, at the baker, she throw cakes to the girls who watch too much her 6'3 foot fiancé. Cheyenne likes burning clothes also. She continues to go to school, but only intermittently.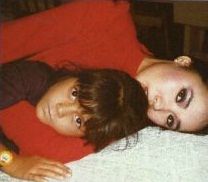 Tarita is helpless. She doesn't understand the changment of personnality of her sweet and luminous daughter, and prays every day God that she will be cured. Actually, Cheyenne suffers from schizophrenia. Marlon doesn't say anything, he denies that Cheyenne is ill but he helps her, asks her to come to see him and Cheyenne feels secured with him. His fiancée,

Yachio

, takes good care of Cheyenne also.