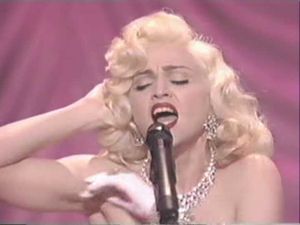 SOONER OR LATER
Sooner or later you're gonna be mine,
Sooner or later you're gonna be fine.
Baby, it's time that you face it,
I always get my man.

Sooner or later you're gonna decide,
Sooner or later there's nowhere to hide.
Baby, it's time, so why waste it in chatter?
Let's settle the matter.

Baby, you're mine on a platter,
I always get my man.

But if you insist, babe, the challenge delights me.
The more you resist, babe, the more it excites me.
And no one I've kissed, babe, ever fights me again.
If you're on my list, it's just a question of when.

When I get a yen, then baby, Amen.
I'm counting to ten, and then ...

I'm gonna love you like nothing you've known,
I'm gonna love you, and you all alone.
Sooner is better than later but lover,
I'll hover, I'll plan.

This time I'm not only getting, I'm holding my man.
Elle chante "Sooner or Later" en 1990, écrit par Stephen Sondheim, à l'occasion de la sortie du film "Dick Tracy" avec Al Pacino et Warren Beatty. Elle aura d'ailleurs une aventure avec ce dernier.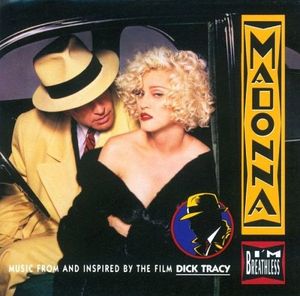 Elle interprèta cette chanson à la cérémonie des Oscars, en 1991.

Sooner or Later - Cérémonie des Oscars 1991
(désolée je n'arrive pas à mettre des vidéos de youtube, on me propose que dailymotion!)
Elle évoque Marilyn et Rita. Et j'irais jusqu'à dire, même Marlene Dietrich.
Elle reprend un peu les paroles de la chanson de Marilyn, "Diamonds are a girl's best friend", quand elle dit "talk to me all about houuu!" à 4min44 secondes.

voir l'article de mon autre site:
http://eternellerita.canalblog.com/archives/2011/12/01/22863314.html#comments
Madonna interprète divinement bien la chanson, elle nous montre qu'elle peut chanter, comme beaucoup d'entre vous qui ont écrit des commentaires sur youtube, j'ai été surprise, je sais qu'elle avait très joliement chanté "Don't Cry for me Argentina" mais là, elle se surpasse! Et puis elle est vraiment ravissante lors de cette soirée des Oscars, d'ailleurs, "Sooner or Later" sera récompensée par un Oscar, et a été élu la plus incroyable performance à une cérémonie des Oscars!
Quelques Photos de l'événement:
avec Michael Jackson

Madonna, pendant les répétitions était, parait-il insupportable!
Il ya bien sur la version de l'album, mais aussi les versions live, lors de ses concerts: (mais je préfere quand elle chante en live aux Oscars) pour la version enregistrée, allez sur youtube...


Madonna - Sooner Or Later Live '90

09. Sooner or Later - Blond Ambition Tour 1990

Infos et photos provenant de :
http://madonnafanmadecovers.blogspot.com/2011/05/sooner-or-later.html
http://www.operagloves.com/MusicVideos/SoonerOrLater/soonerorlater2.html
http://www.safinaz.com/2010/09/30/zaman-tuneli-madonna-michael-jackson-1991/
http://allaboutmadonna.com/2004/12/madonnas-oscars-rant.php
http://www.madonna-gettogether.fr/article-with-michael-jackson-at-the-1991-oscars-madonna-performed-sooner-or-later-45413086.html

http://www.hardcandymusic.com/2010/03/madonna-sooner-or-later-live-at-the-oscars-flashback.html